Yes, to avoid interruption to your Headspace Journey. 'Monthly' subscriptions are automatically debited each month from the first day of the activation until you decide to cancel.

Our 'Yearly' and 'Two Year' subscriptions automatically renew after the initial annual or two-year terms unless cancelled. We will send you a reminder via email 1-month before the renewal takes place.
If you purchased your subscription from our website and do not want your subscription to automatically renew, simply visit this link when logged into your account on a browser, and select 'Disable Automatic Renewal' at the bottom of the page.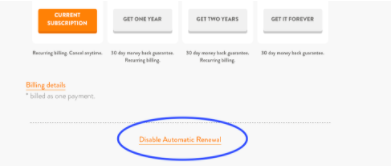 If your subscription had been purchased in-app via iTunes, you would be able to disable auto-renew by following the instructions below:
Open the AppStore
On the Featured page - Scroll to the bottom and click where it says Apple ID
A pop-up will appear - click 'View Apple ID'. (You may be asked to log in)
Tap 'Subscriptions'
Tap the subscription that you want to manage. (Headspace)
Tap Cancel Subscription to cancel your subscription. If you cancel, your subscription will stop at the end of the current billing cycle.
From there, your settings will be updated and it will show when your subscription will expire.
If your subscription had been purchased via Google Play, follow the steps below to disable auto-renew:
Open the Google Play Store
Tap Menu (Hamburger icon) next to "Google Play"
Tap Account and then Subscriptions
Find the subscription you want to cancel
Tap Cancel
If any questions or difficulties arise, please reach out to help@headspace.com with the email address associated with your Headspace account.